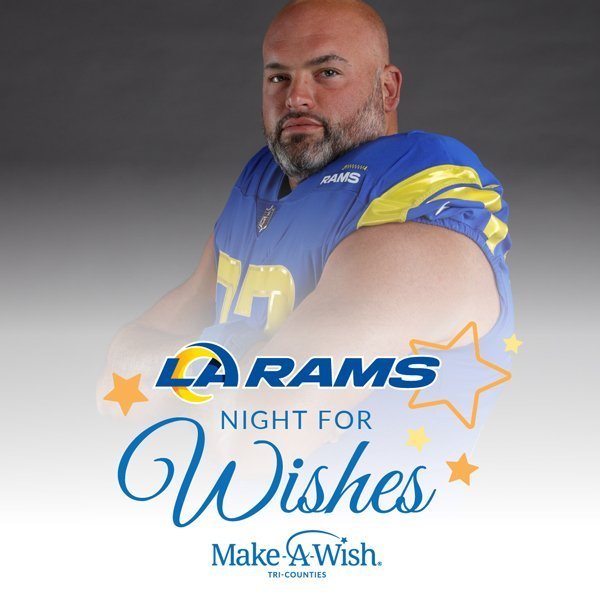 The world has changed but the need for a Wish has not. We need your help to make wishes come true.
Announcing the 3rd Annual Rams Night for Wishes on November 9, 2020 7:00 PM
Join us for an evening of fun, food and football with Andrew Whitworth and the Los Angeles Rams.
Guests will enjoy a unique and exclusive experience with some of your favorite Rams players right form their homes. We will enjoy a complimentary bottle of the 2014 Hilt Estate Pinot Noir while supplies last and along with a gourmet dinner prepared by Rossoblu Chef and Owner, Steve Sampson. LA Times Restaurant Critic, Jonathan Gold named Rossoblu one of the city's ten best restaurants. There will also be entertainment, an online auction, special guests and surprise appearances throughout the evening. A special night filled with laughs, fun, football and a meal together virtually, all to benefit the critical work and mission of Make-A-Wish® Tri-Counties.
Due to an increase in the needs of our kids, we continue to fund wishes through unique fundraising events and activities. While these events may look and feel a bit different, they are as important as ever to the success of our mission. Request for Wishes have continued to pour in and we make every effort to fulfill and grant all of the wishes we receive but there is more work to be done. Due to COVID-19, many of our Wish Kids are struggling even more with both emotional and physical complications and need the power of a Wish now more than ever.
Knowing a Wish is coming gives these children hope, but wishes only happen with the help of local community supporters like you.
This year 130 children are hoping for a Wish and with your help we can come together, as an organization and as a community, and make these Wishes come true.
Thank you for supporting our cause and please know that your support makes it possible for us to continue to fulfill our mission. When these most vulnerable and medically fragile children have their Wish come true it brings them happiness today and hope for the future.
Thank you,
Pattie Mullins CEO